Book online for consults (for emergencies dial 000)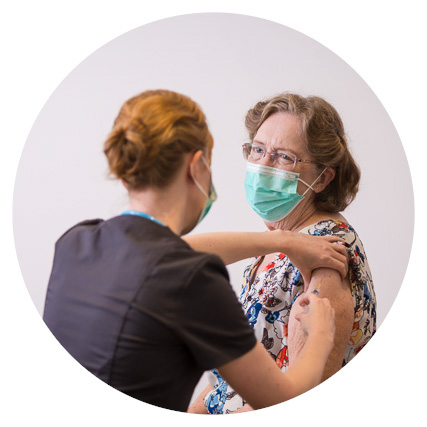 Pfizer & AstraZeneca COVID-19 vaccination clinics
We have both Covid-19 vaccinations in stock and we are now accepting bookings via HotDoc booking app.
The AstraZeneca vaccination is currently available at our clinic for patients aged OVER 59 years as per ATAGI guidelines.
The Pfizer vaccinations are now available for eligible patients ages 12-59. 
If you need to provide proof of your eligibility for the Pfizer vaccination, please send this to our dedicated email address:
pfizer@ccfamilypractice.com.au
Another place you can access Pfizer vaccinations is at Cribb House (Ipswich Hospital) through this Qld Health website: https://www.qld.gov.au/health/conditions/health-alerts/coronavirus-covid-19/protect-yourself-others/covid-19-vaccine/book
ALL FLU VACCINATIONS are also now available:
For patients ages 5-64 without chronic medical conditions (private cost $10)
Age 65+ (Gov funded, no out of pocket cost)
Ages 6 months-5 years (Gov funded, no out of pocket cost)
Chronic disease 5 years + (Gov funded, no out of pocket cost)
The current ATAGI advice is to have at least 7 days gap between the COVID-19 vaccination and any other vaccination.  
Please DO NOT attend our clinic with any infectious symptoms, even the mildest symptoms like a runny nose, sore ears or gastro without discussing this with a GP first in a telehealth consult.
DO NOT attend the clinic if you have potentially been exposed to Covid-19 or are awaiting test results, EVEN IF YOU FEEL WELL.
Please be aware that if you are attending the clinic you will need to wear a surgical mask for the duration of time you spend inside the clinic. Kids under 5 do not have to wear a mask.
To help our community nearly all short telehealth consults for existing patients are bulk-billed until at least 31st December 2021. To access Medicare rebates for telehealth consults you must have been seen face-to-face in the clinic at some time in the last 12 months. If you have not been seen in the clinic in the last 12 months but need a telehealth appointment please call reception to discuss this further or book and pay online for a telehealth consult.
STAY HOME USE THE PHONE – Book only telehealth consults if you have cough/cold/fever/diarrhoea symptoms, or have travelled in the last 2 weeks. We can not see any patients with these symptoms in our clinic due to public health quarantine restrictions.
MILD COUGHS/COLDS/FLU symptoms – STAY HOME AND REST, you can access a telehealth review. Please book online.
SEVERE SYMPTOMS – CALL 000 if it is an emergency (i.e. you have trouble breathing or are concerned about an urgent health problem).
OLDER, CANCER and IMMUNE SUPPRESSED PATIENTS – please call reception if you need anything, we will try to accommodate your needs as quickly and as safely as we can. Alternatively you can also book online.
Link to further information: https://ccfamilypractice.com.au/keeping-our-community-safer-in-covid-19/